Zambia struggles with growing drug menace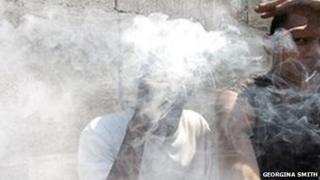 In Zambia's capital, Lusaka, minutes away from the city's commercial hub, is Chibolya - the most feared slum in the city where even the police do not dare to tread.
On the way into the slum, bumpy tracks give way to a dirt path, lined with houses covered in plastic.
Outside one shack, four 15-year-old boys share a joint as the smell of cannabis drifts through the township.
Inside a small wooden house, the television is blaring. People are slumped over, many passed out.
Welcome to the reality of drug abuse in Lusaka.
This is where addicted workers come to get their morning hit of cannabis, crack cocaine or heroin before work; and where those without a job spend their day.
Easing the pain
One of the men slumped outside the shack is 23-year-old heroin addict, Simon Banda.
"I take heroin because of suffering and hunger," he says. "Because of wondering how to get money, how to get a job and not being able to."
He can spend anything from $31 (£20) to more than $200 a day. To feed his addiction, he steals radios, phones - a nice phone worth $630 will be sold for $42 for a fast sale.
Nationwide figures for dependency are impossible to know, but even the Drug Enforcement Commission (DEC), a government body tasked with controlling national drug trafficking, is concerned there are growing numbers of addicts in Zambia.
DEC spokesperson John Nyawali says: "The commission is extremely worried about the increasing number of teenagers abusing narcotics such as cocaine and heroin. This is an indication that Zambia is no longer a transit nation but slowly drifting to a drug consumer nation."
The DEC reported a 67% increase in cannabis seizures - from 64 to 107 tonnes - between 2009 and 2010. In addition there was a 39% increase in drug trafficking, with 4,523 traffickers aged between eight and 85 arrested last year, up from 3,257 in 2009.
'No-one to help'
Scott Robertson, a clinical social worker based in Lusaka, is sure that the number of people using hard drugs like heroin and cocaine is increasing.
"Am I receiving more calls for help? Yes," he says. "Clearly, Zambia is not talking about anything other than alcohol."
What is more, rehabilitation facilities to cope with even existing drug problems are severely lacking. The DEC does run a rehabilitation programme.
"But what Zambian in their right mind would go there for fear of being criminalised?" Mr Robertson asks.
Lusaka's Chinama Hospital offers some support - including referrals to the Serenity Harm Reduction Programme Zambia or Sharpz, established by Mr Robertson and his colleague, Father Philip Baxter.
But with a staff of six, Sharpz has reached full capacity - and it is struggling to find funding.
Mr Banda admits that he wants help. "Definitely. But there is no-one to go to," he says, resignedly. "The doctor told me to suffer it out."
The problem is not confined to the poverty-stricken compounds.
From unemployment to depression, the reasons for taking mind-numbing drugs may be different, but addiction cuts through class and colour.
Charlie Allan, a 37-year-old white Zambian farmer, has spent days with the addicts in Chibolya, watching television and smoking away the pain.
A heroin addict for seven years, it was the death of family members that turned him to drugs.
"I found that when I did feel the pain, if I smoked copious amounts of heroin I would forget it all," he explains. "But before I knew it I couldn't stop. I earned just $1,600 a month but I spent $2,400 a month by stealing from the family farm."
Mr Allan sold everything in his house: Fridge, satellite dish, cooker and furniture. Then he went to the doctor to ask for Subutex, a drug to ease heroin dependency.
"They told me the clinic was not registered to import it," he says. But no other help or advice was available.
A witchdoctor did tell him about a root that could help but it was not in season.
'Left in the cold'
Counselling services in the capital do exist but at $83 for a one-hour session, they remain unaffordable for most.
Even Mr Nyawali admits that the lack of rehabilitation facilities poses a serious problem.
"Many people don't have access to treatment and are left in the cold as they don't want to go to the already existing public mental institutions because of the stigma attached," he says.
According to Father Baxter, the issue has to be addressed nationally.
"There needs to be a drive in the health ministry for a vibrant service for drug and alcohol addiction throughout the country," he says.
Sitting on the football pitch in Chibolya, Mr Banda explains the reason for smoking his first heroin laced joint of the day.
"When you don't have it, your body shuts down. You can't walk, you can't talk"
Unless Lusaka wakes up to its drug addiction, that hit is the only "help" he will get.
Georgina Smith is a freelance journalist based in Zambia. Some names in this article have been changed.