Somalia government extends its mandate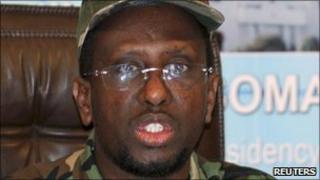 Somalia's UN-backed government has extended its mandate for another year despite criticism from donors and attacks by Islamist extremists.
The government of President Sheikh Sharif Sheikh Ahmed, a moderate Islamist former rebel, was due to leave office in August 2011.
The announcement comes after Somalia's parliament last month extended its mandate for three years.
Islamist militants linked to al-Qaeda control much of the country.
But the government, backed by African Union troops, has recently gained some ground in the capital, Mogadishu from the al-Shabab militants.
The government, which is wracked by deep internal divisions, said it would not be possible to hold the elections which were due in August.
Western donors, who help fund the authority, have criticised it recently.
The current parliament was chosen during a peace conference in 2004.
Somalia has not had a functioning national government since Siad Barre was ousted 20 years ago.