Rwanda genocide: Ex-mayor Gatete sentenced to life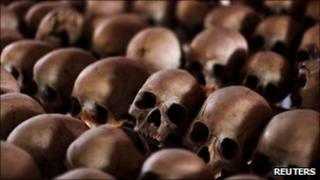 A former Rwandan mayor has been sentenced to life in prison for his role in the genocide of 1994.
Jean-Baptiste Gatete, who also held a senior position in the women's ministry, was found guilty of the massacre of hundreds of Tutsis.
The International Criminal Tribunal for Rwanda (ICTR) said he provided militiamen with weapons and ordered them to kill Tutsis in the east.
Some 800,000 ethnic Tutsis and moderate Hutus died in the 100-day genocide.
A judge at the UN tribunal said Gatete, who had served as mayor of Murambi in eastern Rwanda, was responsible for the "deaths of hundreds and possibly thousands of Tutsis civilians".
He showed no sign of emotion as the ruling was read, AFP news agency reports.
Those most responsible for the killings during the genocide are being tried by the ICTR, which is based in Arusha, Tanzania.