Commanders boost Libyan rebels' morale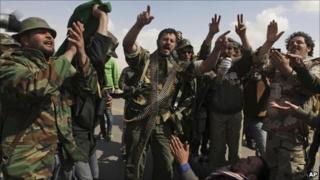 Since the start of the Libyan uprising, many people, both in this country and around the world, have asked where many of the soldiers who swore allegiance to the Gaddafi regime have gone.
On Friday we saw them for the first time, on the road to Brega. Ordered, armed and with a command structure.
Over the last week, I have seen the rebel forces made up of civilians push along the coastal road, from Ajdabiya, Brega, past Ras Lanuf to Bin Jawad.
The momentum has been caused by a mix of self-belief and the coalition planes above.
But as soon as they have come under artillery bombardment, they have turned and fled, deserting the very places they celebrated capturing before.
On Friday, the opposition took control of the road - vehicles, heavy machine-guns and men in uniform.
They generally had the look of older, more experienced fighters.
Roadblocks were set up, and inexperienced and high-spirited fighters were stopped from heading to the frontline.
And then the most significant sign of change - the arrival of Abdul Fatah Younis, the former interior minister and the man who was in charge of the country's special forces, and Khalifa Haftar, the former head of the armed forces.
These two men are seen by many here as possible leaders of the rebel army, and also of a new, more divided Libya.
Greeted like heroes by the troops, the morale of the soldiers fighting Gaddafi loyalists without doubt hit a new high.