Nigeria election: All dressed up and nowhere to vote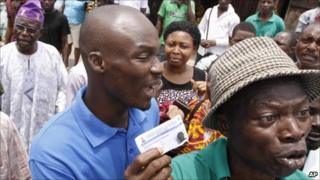 After Saturday's legislative elections were postponed at the last minute, Nigerians are grappling with a mixture of deflation, anger and disappointment.
The delay burst the bubble of an electorate ready and eager to decide on their future.
A catalogue of problems led to the cancellation - from Independent National Electoral Commission (Inec) officials not showing up at some polling stations and election materials not being delivered, to registered voters finding their names absent from lists.
To cap it all, Inec announced the elections were being postponed not just for a couple of days, but a whole week.
Opposition parties insisted on the second postponement to give them more time to reorganise.
Outside a Lagos fast-food joint, one man was supportive of Inec chairman Attahiru Jega's decision.
"I don't see anything wrong with the postponement. It will give enough time for Inec to give us a credible election," he told the BBC.
"I strongly believe in the integrity of Prof Attahiru Jega because he assured us and I strongly believe he's not going to fail us."
After a history of violent and fraudulent elections since the end of military rule in 1999, Mr Jega was supposed to have been the man who would put everything right this time round.
But many will now find it hard to believe any assurances he gives, after he expressed confidence last week that all would be well.
People have lost faith in the electoral commission and question how the problems were not apparent much earlier on.
Fiasco
"They must have known that they didn't have enough materials on Friday or even Thursday. They could have checked that everything was on point," Sola Ajayi, a marketing executive in Lagos, told the BBC.
"What kind of other challenges or other things are going to come up before Saturday that we didn't hear of before?
"Plus there could be an avenue for other people to either start lobbying or do different things that will complicate the whole election process or compromise it."
Eyebrows are certainly being raised over the printing and delivery of the ballot papers which Mr Jega admits was a major problem.
"The aircraft bringing the ballot papers, specifically the result sheets, didn't arrive [in Nigeria] until nine o'clock on election day," he said.
Many Nigerians are now wondering how such a fiasco could have occurred and how the contract for printing the ballot papers and result sheets was awarded, and to whom.
As far as the national chairman of the opposition Congress of Progressive Change, Tony Momoh, is concerned, the problem runs deep.
"Even the printing of the ballot papers was not finished as of Saturday. And the names of many voters were missing from the voters' register. Inec needs to sort that out."
Whiff in the air
There is also the small matter of those ballot papers which have already been delivered and some even used to vote before the election was called off.
When asked for guarantees that these could not be compromised, the Inec head said the serial numbers are known and therefore not open to manipulation.
There is a whiff of something in the air and Nigerians aren't sure if the many mistakes are genuine and therefore illustrative of pure incompetence or if sabotage is afoot.
More questions are being asked than answered.
One thing is clear and that is that Mr Jega is not running a tight ship.
His refusal to divulge all the information to the powerful regional electoral commissioners ahead of last week's planned poll is telling.
Many question whether a credible election is possible on the new date - Saturday 9 April.
It will take a minor miracle to right the sinking ship in just five days.
If Capt Jega cannot pull it off, doom-mongers are predicting chaos, with the all-important elections for president and the powerful state governors due in the following weeks.
Nigeria: A nation divided
To win at the first round, a candidate not only needs the majority of votes cast, but at least 25% of the vote in two-thirds of Nigeria's 36 states. Goodluck Jonathan, of the PDP, reached that threshold in 31 states; runner-up Muhammadu Buhari of the CPC only did so in 16 states.
Nigeria's 160 million people are divided between numerous ethno-linguistic groups and also along religious lines. Broadly, the Hausa-Fulani people based in the north are mostly Muslims. The Yorubas of the south-west are divided between Muslims and Christians, while the Igbos of the south-east and neighbouring groups are mostly Christian or animist. The Middle Belt is home to hundreds of groups with different beliefs, and around Jos there are frequent clashes between Hausa-speaking Muslims and Christian members of the Berom community.
Despite its vast resources, Nigeria ranks among the most unequal countries in the world, according to the UN. The poverty in the north is in stark contrast to the more developed southern states. While in the oil-rich south-east, the residents of Delta and Akwa Ibom complain that all the wealth they generate flows up the pipeline to Abuja and Lagos.
Southern residents tend to have better access to healthcare, as reflected by the greater uptake of vaccines for polio, tuberculosis, tetanus and diphtheria. Some northern groups have in the past boycotted immunisation programmes, saying they are a Western plot to make Muslim women infertile. This led to a recurrence of polio, but the vaccinations have now resumed.
Female literacy is seen as the key to raising living standards for the next generation. For example, a newborn child is far likelier to survive if its mother is well-educated. In Nigeria we see a stark contrast between the mainly Muslim north and the Christian and animist south. In some northern states less than 5% of women can read and write, whereas in some Igbo areas more than 90% are literate.
Nigeria is Africa's biggest oil producer and among the biggest in the world but most of its people subsist on less than $2 a day. The oil is produced in the south-east and some militant groups there want to keep a greater share of the wealth which comes from under their feet. Attacks by militants on oil installations led to a sharp fall in Nigeria's output during the last decade. But in 2010, a government amnesty led thousands of fighters to lay down their weapons.