Ivorian eyewitness: Streets empty in Abidjan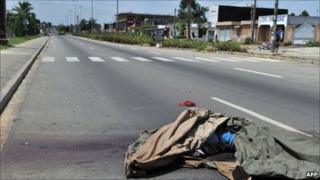 As Ivory Coast's defiant President Laurent Gbagbo is reported to be sheltering in the basement bunker of his residence in Abidjan, his foreign minister says there is a ceasefire.
Troops loyal to Mr Gbagbo's rival, Alassane Ouattara - the man recognised by the UN as the winner of November's presidential election - have surrounded the compound.
But for a sixth day residents of the coastal city have been hiding indoors from the fighting. A man living in the centre of Abidjan told the BBC's Focus on Africa about events on Tuesday.
Koumassi suburb resident
As I am talking to you there is no sound of heavy gunfire; there is no sound of shooting right now.
We've heard a rumour there's a ceasefire, but we don't know if it is true. We're going to wait to see if it's true and if it's respected.
There is no movement on the streets - not even one person is walking.
Everybody is inside their houses.
What we do know is that this morning at 1030 [GMT] there was heavy fighting.
I'm on top of the building looking out over Abidjan.
Even the smoke of fires from this morning - from the fighting in Cocody [where the presidential residence is located] - I don't see that now.
Bread queues
There is still no water and no food.
Another problem is medication - to get medical drugs is very hard.
I have only two bottles of water in my fridge right now. Since yesterday morning the water's been cut off.
Somebody called me from Cocody, saying that for three days they haven't had water.
This morning everybody here rushed out to go and get bread at the bakery.
The queue was very long. The bread was very costly. I was queuing for up to three hours to get bread.
The bread had originally stood at 100 [CFA] francs, I bought it at 300 francs (64 US cents; 40 pence).
That's all I managed [to buy] this morning.
There's no way to get food, there's no market - all shops are closed.