South Africa: 'Fatal police attack' on protester probed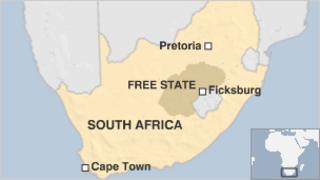 South Africa's police minister has promised to investigate allegations that a protester died after he was attacked by police.
Footage shown on national TV of the police beating up the man in the town of Ficksburg has sparked outrage.
The ruling ANC party has described the assault as "brutal, chilling and sad" and likened it to the tactics used by the apartheid-era police.
The man had been taking part in a protest about poor services.
The footage broadcast on SABC television on Wednesday evening showed a group of police officers firing rubber bullets at a crowd of protesters.
About six other officers are shown striking the 33 year-old man with batons.
He is seen holding his hand against his chest after the assault.
According to the Sapa news agency, he collapsed about 20 minutes after the beatings and died minutes before the ambulance arrived.
The authorities in the province of Free State have called for calm following concerns the incident may spark further trouble.
Ficksburg Mayor Mbothoma Madona said there were tensions in the small town, where the protesters were calling for better housing and access to electricity and water.
"It is chaos indeed. What do you expect?" Mr Madona told South Africa's Talk Radio 702 station.
"People would not be happy with a death. One death is unnecessary when people have come to peacefully protest."
ANC spokesman Brian Sokutu said the party expected the police to "bring the perpetrators to book".
Police Minister Nathi Mthethwa said that an independent investigation would look into "who was in the wrong".