Nigeria: Anxious days for Christian and Muslim leaders
19 April 2011

From the section

Africa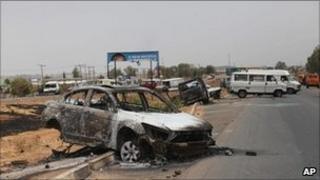 The mood in the Nigerian capital Abuja is subdued on Tuesday as the threat of further violence across the north of the country threatens to undermine the successful conduct of the presidential poll.
"So many of those who supported [opposition candidate] Muhammadu Buhari are convinced that the election was massively rigged," says Mannir Dan-Ali of the Daily Trust newspaper.
And, crucially, there is independent evidence of significant discrepancies between the results declared at polling stations and the final tallies collated in Abuja, he says.
"This is what has made people who voted for [General] Buhari very angry," according to Mr Dan-Ali.
The response from incumbent President Goodluck Jonathan's supporters to allegations of rigging has been that the result was so conclusively in his favour that no amount of challenges to the poll would overturn the result.
But the violence that engulfed cities such as Kaduna on Monday has made those who have witnessed such clashes before express deep concern for what may lie ahead.
Militant past
In Kaduna, just two hours' drive to the north of Abuja, the Reverend James Wuye and Imam Muhammad Ashafa are having a conversation.
Because one is a Christian, and the other Muslim, they cannot travel to meet each other in a city where military roadblocks separate the two communities and a night-time curfew has been imposed.
So the reverend and the imam are talking together on the phone, linked up in a BBC interview.
They know better than most the enormous gulf that lies between the Muslim and Christian communities in Kaduna.
In their younger days, they led opposing militia groups during the sectarian violence that engulfed the region in the 1990s.
Today they are peacemakers bridging that same divide and are more aware than anyone of the dangers posed by the latest eruption of violence across the north.
Religion 'hijacked'
Christian communities have been targeted and churches burned, but Imam Ashafa says the latest violence is first and foremost political.
"Religion has been hijacked as just one of the major instruments used and abused by politicians," he says.
"Religion is a tool used by those politicians, particularly if they are losing, in order to win favour by harnessing the passion of religion so deeply felt in our society."
Mr Wuye accepts that, on different occasions, politicians on both sides of the religious divide are to blame and calls those who orchestrate the violence "conflict entrepreneurs".
Both men have striven for the past two decades to bring down the wall of mistrust between the two communities.
But has it all been in vain? Does this latest flare-up of violence not demonstrate that Muslims and Christians in Kaduna are as far apart as they ever were?
No, there is progress, says Imam Ashafa, but "the sooner we stop this negative propaganda that this is all about religion", and tackle the political causes behind it, "the sooner both sides can live in peace the better".