Cameroon profile - media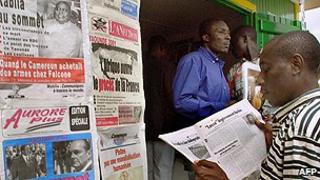 State-run CRTV operates national TV and radio networks and provincial radio stations. There are dozens of private radio and TV stations.
"It is clear from the diversity of the media and the outspoken reporting style that press freedom is a reality," said Reporters Without Borders in its 2011 field survey.
But the watchdog called for media offences to be decriminalised, and said the press can be "bought and exploited" by politicians and businessmen.
BBC World Service radio is available via local relays (98.4 FM in Yaounde).
There were nearly 1.5m internet users by June 2015 (InternetLiveStats.com). In early 2011, officials ordered telecom companies to suspend mobile services for Twitter, ahead of planned demonstrations against President Biya.
Press
Cameroon Tribune - state-owned daily in French, English
Mutations - privately-owned French-language daily
Le Messager - privately-owned, Douala
The Herald - English-language
The Post - private, English-language
La Nouvelle Expression - private, French-language
Television
Radio