Central African Republic profile - Media
20 September 2013

From the section

Africa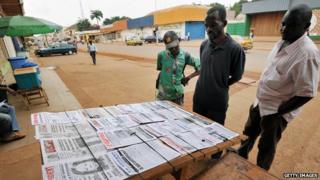 Radio is the most-popular medium. The media consist largely of low-circulation newspapers and "often-isolated" radio stations, says Reporters Without Borders (RSF).
Persistent conflict has hampered media development. Officials and armed groups have targeted journalists and media outlets.
In Bangui, UN-sponsored Radio Ndeke Luka ("bird of luck") provides balanced output, and rebroadcasts international news programming.
Other radio and TV stations are run by the state-run Radiodiffusion-Television Centrafricaine and provide little coverage of the political opposition.
There are about two dozen privately-owned radio stations. Many of them are run by religious organisations.
BBC World Service (90.2 FM), Radio France Internationale and the Voice of America are available via local relays in Bangui.
Around 3% of citizens were online by 2012 (ITU). Internet penetration is mainly confined to Bangui.
Press
Le Citoyen - private, daily
Le Confident - private, daily
L'Hirondelle - private, daily
Le Démocrate - private, daily
L'Evenementiel - private, daily
Centrafrique-Presse - state-owned, bi-weekly
Television
Television Centrafricaine (TVCA) - state-run
Tropic RTV - private
Radio
Radio Centrafrique - state-run
Radio Notre Dame - Catholic
Radio Ndeke Luka - backed by UN and Swiss NGO
News agency/internet