Chad profile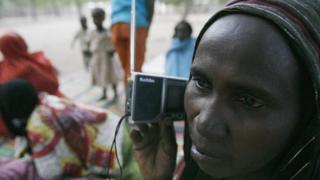 Radio is the main medium, but state control of many broadcasting outlets allows few dissenting views.
State-run Radiodiffusion Nationale Tchadienne operates national and regional radio stations. Around a dozen private radio stations are on the air, despite high licensing fees. Some of them are run by non-profit groups. These broadcasters are subject to close official scrutiny.
The only television station, Tele-Tchad, is state-owned and its coverage favours the government.
The BBC (90.6) and Radio France Internationale broadcast on FM in the capital.
Private newspapers critical of the government circulate freely in N'Djamena, but have little impact among the largely rural and illiterate population.
Nearly 191,000 internet users were online by December 2011 (Internetworldstats.com).
Press
Le Progres - daily
N'Djamena Hebdo - private weekly
L'Observateur - private weekly
Le Temps - private weekly
Notre Temps - private weekly
Television
Radio
Radiodiffusion Nationale Tchadienne (RNT) - state-owned
Dja FM - private
Al-Nasr - private
Al-Bayan - private