Niger calls for aid for those fleeing Libya conflict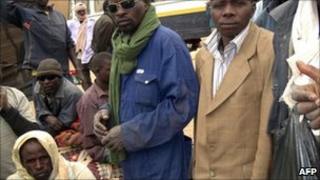 Niger's government has appealed for help to deal with some 59,000 Africans who have fled Libya since February.
The International Organization of Migration told the BBC many of them arrive penniless and in a bad condition after gruelling desert trips.
The IOM's Abibatou Wane said the influx from Libya was expected to continue.
Many sub-Saharan Africans have worked for years in Libya in low-paid jobs in the oil, agriculture and construction sectors or as domestic servants.
The Libyan uprising against Col Muammar Gaddafi's rule has developed into an armed conflict pitting rebels against government forces and drawing in a Nato-led coalition with a UN mandate to protect civilians.
The UN believes at least 335,000 people have fled Libya since the beginning of the conflict, including at least 200,000 foreign nationals.
Vulnerable
Niger's new cabinet has asked for donor assistance for the thousands of mainly Niger nationals who have arrived in the last few months, now staying in over-stretched camps or with families struggling to cope with the newcomers.
Most people have been arriving in Dirkou, in northern Niger, the first major town after travelling from the border with Libya.
"When they arrive they're in a really really bad condition especially those coming from Dirkou - because the journey is very hard, they are travelling three or four days in trucks," Ms Wane told the BBC's Focus on Africa programme.
Those arriving in recent weeks have been much more vulnerable, often with no luggage.
"They are coming with nothing," she said.
So far, IOM's figures show about 54,000 people fleeing from Libya have arrived at Dirkou, another 1,000 via Algeria and 4,000 by plane, Ms Wane said.
In the last few days, two flights a day have been arriving from Egypt with people who have escaped the besieged rebel-held city of Misrata.
The IOM has been helping with food and medical assistance for the returning migrants - and with transporting them back to their homes in Niger or elsewhere in West Africa.
"In Libya they were working and sending money and helping their families," Ms Wane said.
Now communities were doubly affected by hosting the returnees and by the drop in income from Libya, she said.