Burkina Faso police shoot to protest in Ouagadougou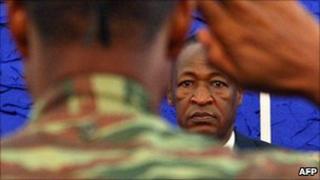 Protesting police officers have fired their guns in the air in the Burkina Faso capital, Ouagadougou.
The police are the latest group to take to the streets over the rising cost of living in the impoverished, landlocked West African country.
Cotton farmers and market traders protested in different parts of the country on Wednesday, while soldiers mutinied earlier this month.
The economy has been badly hit by the crisis in its neighbour, Ivory Coast.
The police also fired their guns into the air in the second city Bobo-Dioulasso overnight but the BBC's Mathieu Bonkoungou says the city was quiet on Thursday morning.
Last week, President Blaise Compaore of Burkina Faso appointed himself minister of defence in a bid to quell the army mutiny.
He had earlier appointed Luc Adolphe Tiao - a journalist without prior government experience - as prime minister.
Trouble began on 14 April when soldiers and presidential guards in the Ouagadougou staged a protest over unpaid housing allowances.
Tens of thousands of people also took to the streets to demonstrate against high food prices.
Burkina Faso - formerly called Upper Volta - has spent many of its post-independence years under military rule.
One of Africa's poorest countries, it has significant reserves of gold, but cotton production is its economic mainstay.