Uganda Besigye arrest: Call for talks to end unrest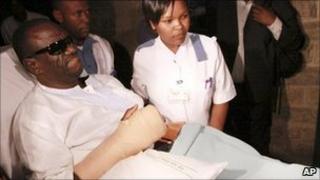 Religious leaders in Uganda have called for talks between the government and opposition in order to end violence which has escalated in recent weeks.
The government has banned walk-to-work protests against the high cost of living and has repeatedly arrested opposition politician Kizza Besigye.
Two people were killed when his supporters rioted in the capital Kampala on Friday.
Dr Besigye is being treated in Kenya after being doused with pepper spray.
He has still not recovered his sight since police smashed through the window of his car with the butt of a gun on Thursday and sprayed him at close range, the incident caught on camera.
The opposition politician was then bundled into the back of a pick-up truck and driven off at speed, before being freed on bail for medical treatment.
April's walk-to-work campaign, organised by several opposition parties over rising fuel and food prices, has been marked by clashes between protesters and the police and the arrest of opposition politicians.
Museveni interrupted
Uganda's inter-religious council accused the police of using brutal force against demonstrators and condemned the manner of Dr Besigye's arrest.
It called for the interior minister and the head of the police to resign, and for a dialogue between the opposition and the government to start immediately.
Bishop Zac Nirigiye of the inter-religious council said that unless there was dialogue the violence would escalate.
President Museveni, who happened also to be in Nairobi on Saturday, was interrupted by a protester while delivering a speech at a business club.
"Mr President, how can we as Kenyans sit here and listen to you while you have been brutalising Ugandans?" the man shouted, before being taken away by Mr Museveni's security detail.
The Ugandan leader said Dr Besigye could walk to work if he wanted to as long as he informed the police to "agree with them where he wants to pass".
"Kampala is a very crowded city," he said. He also described Friday's rioters as "looters".
Dr Besigye, who was shot in the hand during a similar recent protest, lost to Mr Museveni in a February election he says was rigged.
Before the polls, Dr Besigye had called for Egypt-style uprisings in the event of fraud.
Police responded by banning public demonstrations.