DR Congo transport minister sacked over boat accidents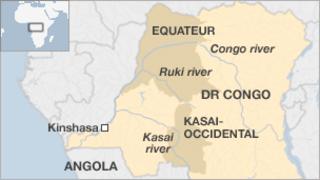 The transport minister of the Democratic Republic of Congo has been sacked for failing to prevent a string of fatal boat accidents.
A government spokesman said Marie-Laure Kawanda had not been able to "ensure that regulations related to navigation are respected".
In the latest incident, about 100 people were reported missing after a boat sank on the Kasai river on Monday.
DR Congo has few viable roads or railways but several major waterways.
Boat transport is widely used; however, the vessels are often overloaded or badly maintained, and accidents are commonplace.
Information Minister Lambert Mende said Ms Kawanda should have done more to tackle safety.
"She should have introduced rules to prevent boats travelling at night and to stop cargo boats from carrying passengers," he told Reuters.
The boat on the Kasai - a tributary of the Congo river - was not registered to carry passengers but was reportedly carrying 300 people when it sank overnight on Sunday.
Another boat capsized in the same river last year, leaving up to 200 people dead.
The Red Cross says about 40 people died last week when a crowded boat sank on Lake Kivu, on DR Congo's eastern border.