Democratic Republic of Congo profile - Media
4 August 2015

From the section

Africa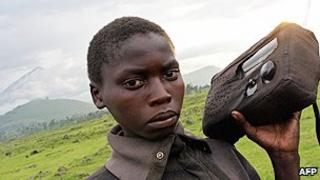 The Congolese media operate against a backdrop of political power struggles and violent unrest.
Reporters Without Borders says media workers face arrest, threats and violence. Reporters exposing corruption are at particular risk.
A local organisation, Journalist In Danger, identified a "growing crackdown" on the media in 2011, which intensified during elections in November. It said the credibility of news organisations had been badly damaged by the behaviour of journalists during the campaign.
Nonetheless, the press is able to criticise government bodies, and some publications serve as mouthpieces for opposition parties.
The DR Congo has around 175 newspapers and magazines, 300 radio stations and 50 TV stations.
Radio is the dominant medium; a handful of stations, including state-run RTNC, broadcast across the country. Three TV channels have near-national coverage.
The UN Mission in DR Congo (Monuc) and a Swiss-based organisation, Fondation Hirondelle, operate Radio Okapi. The network employs mostly-Congolese staff and aims to bridge political divisions. It is one of DR Congo's leading stations.
The BBC broadcasts on FM in Kinshasa (92.7), Lubumbashi (92.0), Kisangani (92.0), Goma (93.3) and Bukavu (102.2). .
Radio France Internationale (RFI), which is widely available on FM, is the most popular news station, according to the US-based Committee to Protect Journalists. The authorities have been known to suspend RFI's local relays over the station's coverage.
By December 2011, there were more than 915,000 internet users (via Internetworldstats.com). Most people use cafes to access the internet. Text messaging services were blocked for a time after disputed elections in late 2011.
Press
Television
Radio
News agencies