Ivory Coast profile
15 August 2012

From the section

Africa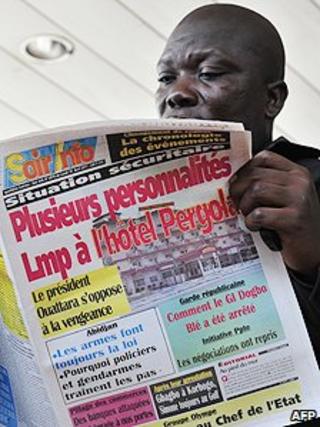 Media were used as propaganda tools during the five-month military standoff between rival claimants to the presidency in early 2011.
State broadcaster RTI agitated against election winner Alassane Ouattara. The Ouattara camp set up a rival broadcasting operation. Pro-Ouattara forces ransacked and occupied for five months media outlets loyal to former president, Laurent Gbagbo, including Notre Voie newspaper.
"Fierce street fighting is being accompanied by an all-out communication and information war," said Reporters Without Borders at the height of the unrest. Both sides committed abuses against the media, reported the Committee to Protect Journalists.
RTI resumed broadcasts in August 2011, having closed in April because of the fighting.
Radio is Ivory Coast's most popular medium. UN peacekeepers launched Onuci FM in 2005. There are no private terrestrial TV stations, although satellite pay-TV services are available.
BBC World Service broadcasts on FM in Abidjan (94.3), Yamoussoukro (97.7) and Bouake (93.9).
There were 968,000 internet users by December 2011 (via Internetworldstats.com).
Press
Television
Radio
News agency