Sheryl Cwele: SA minister's wife smuggled drugs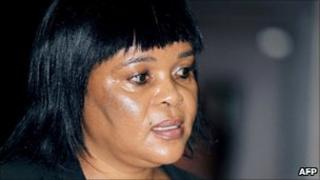 Sheryl Cwele, wife of South Africa's intelligence minister, has been convicted of drug trafficking.
Cwele, married to Siyabonga Cwele, recruited women to smuggle drugs into the country from Turkey and South America, a judge found.
Allegations of drug trafficking surfaced in 2009 after the arrest of a South African woman caught in Brazil with cocaine worth $300,000 (£200,000).
Tessa Beetge is currently serving an eight-year jail sentence in Sao Paulo.
She was found with 10kg (22lb) of cocaine in her luggage.
Cwele was convicted along with her accomplice Frank Nabolisa, a Nigerian national, at the High Court in Pietermaritzburg.
The pair, who had pleaded not guilty, face 15 years in prison. Sentencing is due on Friday.
The opposition has called for Mr Cwele to step down, arguing that if he is not aware of his wife's illegal activities, he should no longer be in charge of the country's intelligence-gathering.
Mr Cwele was not in court on Thursday and has not commented on the conviction of his wife, the BBC's Milton Nkosi reports from Johannesburg.