Morocco: Three arrested over Marrakesh cafe blast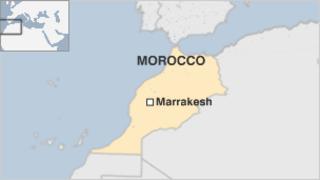 Three people have been arrested in Morocco in connection with an explosion at a cafe in Marrakesh last month in which 16 people died, officials say.
The blast at the Argana cafe in Marrakesh killed 14 foreigners - six of them French - and two Moroccans.
No group has so far said it carried out the 28 April attack.
However, a video posted on the internet threatening Morocco three days before the blast was attributed to al-Qaeda in the Islamic Maghreb.
Those arrested include the main suspect and two others, all of them Moroccans, interior ministry officials said.
The main suspect "is linked to al-Qaeda and made the bomb" which ripped through the cafe in Djemaa el-Fna Square, the tourist heart of Marrakesh, the AFP news agency quoted an interior ministry official as saying.
A statement from the interior ministry said the main suspect "made many attempts to go to such hot spots as Chechnya and Iraq" before carrying out the Marrakech attack.
There was no information given about where the three were arrested.
The cafe attack was the deadliest to hit Morocco since a bombing in Casablanca in May 2003 in which 45 people - including suicide bombers - were killed.
During the early stages of the investigation in the Marrakesh bomb Morocco's interior minister said the device was detonated remotely.