Ivory Coast: Pro-Gbagbo militia 'massacred civilians'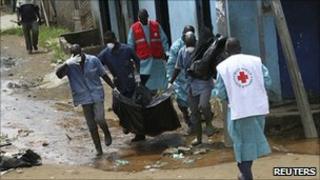 Some 200 people, mostly civilians, have been killed by retreating militiamen and Liberian mercenaries loyal to ousted Ivory Coast leader Laurent Gbagbo, officials say.
The killings happened last week in coastal communities as the fighters headed for the Liberian border, the defence department said.
The claim has not been independently verified.
Mr Gbagbo was last week questioned over alleged human rights abuses.
He was arrested a month ago, after refusing to accept defeat in the November 2010 elections.
President Alassane Ouattara was sworn in as president last week and is trying to restore normal life after the four-month dispute, during which an estimated 3,000 people were killed.
Cocoa exports resumed from the world largest producer over the weekend, officials say.
"The last fighters in the pay of the former president, Laurent Gbagbo, were mercenaries from Liberia and Ivory Coast militia, the defence ministry said in a statement signed by Prime Minister Guillaume Soro, who is also defence minister.
"After being routed, they headed to their home areas," it said.
After fleeing from the main city, Abidjan, the fighters passed through coastal communities including Irobo, Grand Lahou, Fresco and Sassandra where the killings took place, the statement added.
Most victims were chosen for ethnic reasons or because they lived in areas that had traditionally supported President Ouattara, it said.
Earlier, UN human rights chief for Ivory Coast Guillaume Ngefa said that 68 male victims had been found in 10 mass graves at two sites in Yopougon, the last district of Abidjan to remain under the control of pro-Gbagbo forces.
He said local people claimed that many of the victims were killed by Mr Gbagbo's supporters.
They said the massacre happened the day after Mr Gbagbo was seized by supporters of President Ouattara.