Guinea opposition leader Cellou Diallo angry over raid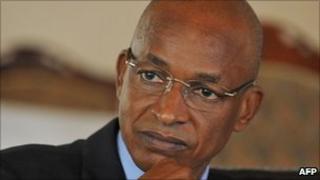 Guinean opposition leader Cellou Diallo has told the BBC that security services raided his home on Tuesday evening in the capital, Conakry.
He said that the soldiers said they were looking for weapons.
He added that the new government was persecuting him for speaking out against its authoritarian ways.
Mr Diallo lost to veteran opposition leader Alpha Conde in November's presidential election - the country's first democratic polls in 52 years.
Mr Diallo, a former prime minister, was on a visit to Senegal when he says his home was raided.
"The security officers were saying, 'there is only one president in the country'," he told the BBC's French Service.
He said he and his Union of Democratic Forces of Guinea (UFDG) party were facing growing harassment and this was the third raid on his home since 2009.
Last month, he said about 70 of his supporters were arrested for organising an illegal demonstration when they gathered at the airport to welcome him home.
President Conde took over from the military junta that had seized power in December 2008 on the death of the previous president, Lansana Conte, who had ruled for 24 years.