Gabon profile - Media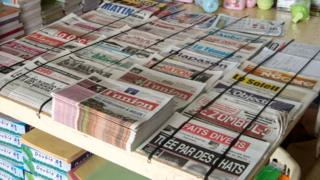 Gabon's main broadcast media are government-controlled.
In 2013, Reporters Without Borders acknowledged the authorities had made some progress in media freedom but said journalists still faced "police brutality and intimidation by officials". The watchdog called for an overhaul of the country's 2001 media law.
Gabon's daily newspapers are government-affiliated. Many private weeklies are controlled by opposition parties. There are a few private broadcasters.
Gabon's state broadcaster operates two TV stations, a French-language radio network and provincial stations. Radio France Internationale is available on FM.
There were more than 670,000 internet users by November 2015 (Internetworldstats.com).
Press
L'Union - government daily
Gabon Matin - government-affiliated daily
Le Temps - private weekly
Le Temoin - private weekly
La Lowe - private weekly
Le Journal - private, bi-monthly
La Relance - private weekly
Gabon Libre - news portal
Gabon Review - news portal
Television
Radiodiffusion-Television Gabonaise - state-run, operates two channels
TeleAfrica - private
Radio
Radiodiffusion-Television Gabonaise - state-run, operates two networks
Africa No1 - Gabon-based, heard across French-speaking Africa via FM relays
Internet/news agency