Nelson Mandela votes early in South Africa election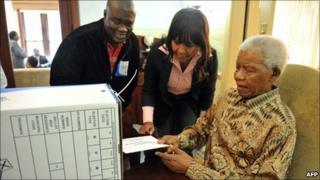 Former President Nelson Mandela has voted at home in South Africa's local elections, two days early, like others unable to reach a polling station.
His foundation released the first photographs of the 92-year-old hero of the fight against white minority rule since he was hospitalised in January.
He was accompanied by his wife, daughter and granddaughter.
He has not appeared at a public engagement since the closing ceremony of the football World Cup in July 2010.
Mr Mandela has appeared increasingly frail on his infrequent public appearances since retiring from public life in 2004.
The Nobel Peace Prize winner has been treated at home since his release from hospital following an acute respiratory infection.
But Independent Electoral Commission chairwoman Brigalia Bam told Radio 702 that he was well enough to vote on his own.
"Amazingly enough, the presiding officer was trying to help, and he [Mandela] said: 'No, no, no. I'm fine. I don't need any help'," she said.
She also said the former president had been looking forward to voting "so much".
Mr Mandela, known to South Africans by his clan name Madiba, was imprisoned for 27 years by the apartheid government.
He was released from jail in 1990 and went on to lead the African National Congress to a landslide victory in 1994 - the first time South Africa's black majority was allowed to vote.
He stood down as president in 1999 but the ANC retains a massive majority in parliament and runs all but one of the country's provinces.