Ghana profile - Media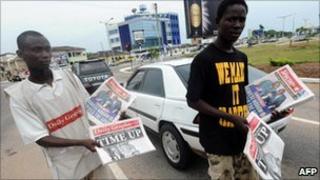 Ghana enjoys a high degree of media freedom and the private press and broadcasters operate without significant restrictions.
The media are free to criticise the authorities without fear of reprisals, says Reporters Without Borders.
The private press is lively, and often carries criticism of government policy. Animated phone-in programmes are staple fare on many radio stations.
Radio is Ghana's most popular medium, although it is being challenged by increased access to TV.
Scores of private FM stations crowd the dial; many of them are based in the main towns and cities. Most of them are chasing a limited amount of advertising revenue. State-run Ghana Broadcasting Corporation (GBC) runs national TV and radio networks.
The BBC broadcasts on 101.3 FM in Accra, and on 104.7 FM from Sekondi-Takoradi, the capital of Western Region.
By 2012, 17% of Ghanaians were using the internet (ITU). Mobile phones are widely used to access online content.
Press
Television
Radio
News agency/internet