Uganda's Yoweri Museveni lashes out at 'media enemies'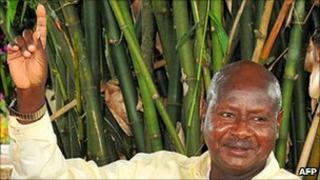 Uganda's President Yoweri Museveni has lashed out at the media for their coverage of recent opposition protests over the cost of living.
In a letter published in the state-owned New Vision paper, he called them "the enemies of Uganda's recovery".
He named Al-Jazeera, the BBC, regional NTV and Uganda's privately owned Daily Monitor as cheering on those behind the month-long "walk-to-work" campaign.
Rights groups have criticised the police crackdown on the protests.
At least nine people have died, according to Human Rights Watch.
Mr Museveni, who has been in power since 1986, was sworn in for a fourth term as president a week ago, as thousands of opposition supporters turned out to welcome opposition leader Kizza Besigye home from neighbouring Kenya.
Dr Besigye, a former ally of Mr Museveni, sought medical treatment in Nairobi after being injured when he was arrested during the protests.
New laws
In his letter, entitled We shall know them by their fruits, Mr Museveni referred to the walk-to-work campaign over rising fuel and food prices led by Dr Besigye as "treacherous".
"The media houses both local and international such as Al-Jazeera, BBC, NTV, The Daily Monitor, etc, that cheer on these irresponsible people are enemies of Uganda's recovery and they will have to be treated as such," he said.
"Why do they not also report the negative acts of these elements?"
Ugandan Information Minister Kabakumba Masiko told the BBC's Network Africa programme that laws would be amended to deal with any journalist who became an "enemy of the state".
"If you look at the way these media houses have been reporting what has been going on in our country, you realise they were inciting people and trying to show that Uganda is now ungovernable, is under fire as if the state is about to collapse," she said.
Last month, Mr Museveni said he wanted a new law to deny bail for six months to those arrested for rioting or causing economic sabotage.
Tom Rhodes, from the New York-based Committee for the Protection of Journalists, told the BBC this could also be used to target journalists.
"They've started to accuse the media of actually being part of the opposition, which in many cases is not true," he said.
"There'll be many cases of Ugandan journalists being arrested and denied bail by this proposed amendment to the constitution and the penal code."
Last week, more than 10 journalists covering Dr Besigye's return from Kenya were beaten up by the security services and some had their equipment confiscated.
The Ugandan Human Rights Network for Journalists is demanding an apology and journalists are boycotting coverage of government press conferences over the issue.
'Protests hit business'
The president accused Dr Besigye of having a "hidden agenda" and said he had "violently resisted arrest".
He also defended the police's actions during the protests.
"Those who were of the view that the 'walk-to-work' was harmless were wrong. The police were right to, straight away, block these efforts," he said.
"It saved people's properties, in the main, from being looted and destroyed. Nevertheless, people close shops whenever these 'walks' start. They, therefore, lose time and opportunity in their businesses. It scares away, people, especially, tourists and investors."
Dr Besigye says he was cheated in February's election, although he mustered only half as many votes as Mr Museveni - and the government accuses him of trying to organise an Egypt-style uprising.
Last month, riots broke out in Kampala in protest at the rough treatment meted out to Dr Besigye by the security services during his arrest on 29 April.
Plain-clothed policemen beat up his supporters, smashed the window of his car and doused the inside with pepper spray and tear gas before manhandling him into a vehicle and driving off.
The authorities say Dr Besigye provoked them - and he was charged with inciting violence.
Mr Museveni came to power in 1986, following years of misrule under Milton Obote and Idi Amin.
He was initially praised as part of a new generation of African leaders determined to raise living standards and bring democracy to the continent.
But recently, donors have cut off some aid amid concern about his commitment to human rights.