Tunisia lifts overnight capital curfews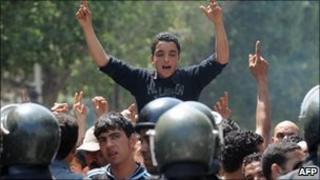 Authorities in Tunisia have lifted an overnight curfew imposed on the capital, Tunis, 10 days ago.
Tunisia's interior ministry said the curfew had been lifted following an improvement in the security situation.
The curfew was introduced after four days of protests calling for the resignation of the government.
Meanwhile, three people, including a military officer, were killed in clashes west of the capital, reports say.
Tunisian TV cited an interior ministry report as saying that special army and police units had engaged three "armed terrorists" in a gun battle in Rouhia, some 200km (125 miles) west of Tunis.
Overnight raids
Two of the gunmen were killed while the third managed to escape, the statement said. As well as the fatally wounded officer, two soldiers "survived with bullet wounds", it added.
Correspondents say Tunis's curfew - which had run every evening until 0500 (0600 GMT) - had hit businesses in the capital.
The interior ministry said it was no longer necessary as stability had improved thanks to 10 days of arrests and overnight raids.
Some 1,400 people have been detained and 300 charged with dangerous crimes since 7 May, Reuters news agency reported.
The Tunisian police used tear gas and batons to disperse hundreds of anti-government demonstrators in Tunis earlier this month.
The authorities said allies of ousted President Zine al-Abidine Ben Ali were fomenting unrest.
Some of the recent protests were organised by supporters of former Interior Minister Farhat Rajhi, who has become a vocal figure in the pro-democracy movement.
The movement is angered by the slowness of democratic reform, and continued poor working conditions, in a country where the unemployment level stands at around 14%.
Mr Ben Ali stepped down amid January protests against his authoritarian rule and the country's poor living standards.