Algeria to host summit on Sahara Islamist militancy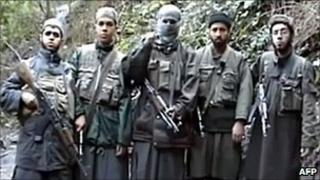 Algeria is to host an international summit to discuss ways of tackling crime and Islamist militancy in the Sahara desert region.
The moves comes after ministers from Mali, Niger, Mauritania and Algeria met in the Malian capital Bamako.
Mali has called for up to 75,000 troops to be trained for a joint task force to fight al-Qaeda in the Islamic Maghreb.
The al-Qaeda branch has been blamed for several high profile kidnappings and attacks in the region in recent years.
Al-Qaeda in the Islamist Maghreb is most active in Algeria, but loose border controls and disagreements between the countries mean it has spread right across the Sahara Desert to Mali and Niger.
The area is vast, sparsely populated and barely controlled by the region's security forces.
The BBC's Martin Vogel in Bamako said the Mali meeting was an attempt by the Sahara Sahel states to develop a unified approach to their shared problem of Islamist militancy and of drug smuggling.
'Same agenda'
They agreed to ask Algeria to invite Western nations, principally the US and EU states, to a conference to discuss the issues.
"The challenges we face requires more focused planning and effective co-ordination," said Algeria's delegate Abdel Kader Messahel.
"It falls on us to evaluate dangerous developments and the new dimensions the terrorist threat is taking."
Mr Messahel told the BBC the talks would help the states reinforce their capacities, and share logistics and information.
"Everyone has their strategy - the EU has their strategy, their road map, the US has their road map and other partners have theirs," he said.
"What's important for this meeting, which will be held in Algiers, is that we all have the same agenda."
But our correspondent says Mr Messahel was clearly not planning to invite Western nations to conduct their own military operations against Islamists in the region, something Algeria has long been opposed to.
It also remains to be seen how Western government will react to the proposals and whether they will attend the meeting, our correspondent adds.
Mali's delegate, Foreign Minister Soumeylou Boubeye Maiga, said it was vital the four countries work together, the AFP news agency reports.
He called on them to train and mobilise between 25,000 and 75,000 troops "in the fight against terrorism and transnational crime".
The United States has provided military training to Sahara states since 2002.
A spokesman for the State Department told the BBC it would continue to help fight trans-national crime, as well as al-Qaeda.