Nelson Mandela travels to home village in South Africa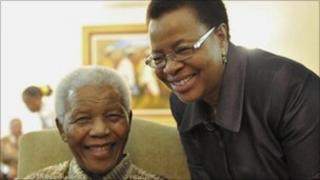 Nelson Mandela has travelled to his childhood village in South Africa's Eastern Cape in his first trip since he was hospitalised in January.
The 92-year-old former president flew to Qunu from Johannesburg with a full medical team.
The BBC's Karen Allen in Johannesburg says news of the trip has raised fresh concerns about his health.
However, his great grandson said he had seen Mr Mandela last week and urged well-wishers not to panic.
Speaking at an event in Johannesburg to promote Mandela Day in July, Luvuyo Mandela said the fact that his great-grandfather had been well enough to travel was testimony to his good health, given his advanced years.
Mr Mandela is now said to be resting at home in Qunu with his wife, Graca Machel, after he was transferred from the airport in a convoy of 12 vehicles on Sunday night.
South African President Jacob Zuma said he was "pleased that [Mandela] is now well enough to travel".
Home vote
The Nobel Peace Prize winner has been recovering at his residence in Johannesburg after being treated for an acute respiratory infection earlier this year.
He has not appeared at a public engagement since the closing ceremony of the football World Cup in Johannesburg in July 2010.
Last week, he voted from home in South Africa's regional elections.
Mr Mandela, who is a hero to many in South Africa and around the world for his long fight against white minority rule, has appeared increasingly frail since he retired from public life in 2004.
He stood down as president in 1999 after serving one term, handing over to Thabo Mbeki.
Upon leaving prison in 1990 after 27 years in jail, he led the African National Congress party to a landslide victory in 1994 - the first time South Africa's black majority was allowed to vote.