Libya: Benghazi rebel visit for senior US official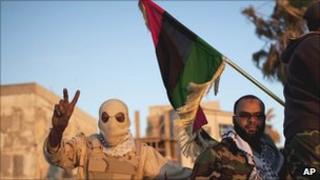 The most senior American diplomat yet to visit the rebels in Libya is holding talks in their Benghazi strongold.
US Assistant Secretary of State Jeffrey Feltman has met the Transitional National Council, which rules the east of the country.
Colonel Muammar Gaddafi must leave power, the US reiterated in a statement released during the visit.
The Libyan rebels failed to gain full recognition when they travelled to Washington a week ago.
After those talks the US President Barack Obama went as far as to say the Transitional National Council (TNC) was a "legitimate and credible" interlocutor for the Libyan people, and he said it was inevitable that Col Gaddafi would leave power.
Along with France and the UK, the US was proactive in securing the United Nations mandate for a no-fly zone, imposed on Libya in March.
American forces also led the implementation of the no-fly zone before handing control to the Nato alliance.
Helicopter deployment?
During his three-day visit to Libya, Mr Feltman will meet the head of the TNC, Mustafa Abdul Jalil, and others.
It follows a diplomatic mission by the European Union, during which EU foreign affairs chief Catherine Ashton opened an EU office in Benghazi, the de facto rebel capital.
Some countries - including France, Italy and Qatar - have already given diplomatic recognition to the TNC rebel leadership.
Apart from the diplomatic manoeuvres, there are credible - but unconfirmed - reports that France wants to deploy attack helicopters as part of the Nato-led coalition.
Twelve helicopters were despatched to Libya on the French carrier Tonnerre on 17 May, according to reports in Le Figaro newspaper.
The deployment is part of co-ordinated action by the Nato coalition, one unnamed French diplomatic source told Reuters news agency.
Nato itself refused to confirm the reports.
If helicopters are made available for Nato operations in Libya, they will ramp up the pressure on Col Gaddafi by enabling Nato to get closer to government forces embedded in civilian areas of towns and cities.