Nigeria: Blasts hit vice-president's hometown, Zaria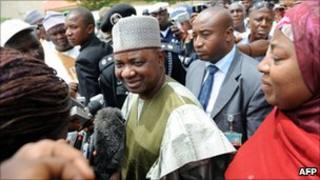 At least six people have been injured by two explosions in the hometown of Nigeria's Vice-President, Namadi Sambo, officials have said.
The blasts in the northern city of Zaria struck a bar on Sunday night and the old quarter on Monday morning.
There are also reports of an attack on a military patrol in Maiduguri.
At least 10 people were killed by a bombing at a market place in Bauchi on Sunday evening, hours after President Goodluck Jonathan's inauguration.
No group has yet said it was behind the series of attacks.
Security heightened
The BBC's Abdullahi Kaura Abubakar in Kaduna says the two bombings in nearby Zaria targeted a beer parlour in the government reservation and an old part of the city. Two children were injured in the latter attack.
Kaduna state police spokesman Aminu Lawal said the blasts were both caused by "locally-made explosive devices".
"We have intensified security in the affected areas and we have deployed more patrol teams," he told the AFP news agency.
On Sunday, three explosions at the Mamy market attached to the Shadawanka barracks in the city of Bauchi killed 14 people and injured 29 others, the chairman of the Bauchi state emergency operations team told the BBC.
The BBC's Ishaq Khalid says that although the site has been cordoned off by security forces, he saw a great deal of devastation there.
The bombs were planted in three different locations in the popular market area, where traders sell food, drink and other goods to soldiers and civilians in the evening, our correspondent says.
Police said they were still investigating the explosions, and were not yet able to say who they believed were behind them. It was also not clear if they are connected to the blasts in Zaria and Maiduguri.
The Bauchi attack came only hours after President Jonathan was sworn in for his first full four-year term of office in the capital, Abuja.
Mr Jonathan was promoted from vice-president after northerner Umaru Yar'Adua died in office in 2010.
April's election was largely considered free and fair, but hundreds of people were killed in three days of rioting and reprisal killings in northern towns following the announcement of the result.
Mr Jonathan secured nearly 60% of the vote in the election. His main challenger, northern Muslim and former military ruler Muhammadu Buhari, came a distant second with almost 32%.
Analysts say that Mr Jonathan will have to tackle the Christian-Muslim conflict and also the simmering tension in the oil-producing Niger Delta.