South Africans in rare anti-xenophobia march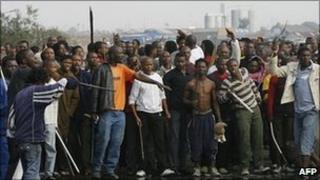 A rare protest has taken place in South Africa in defence of Somali and Pakistani businessmen threatened with xenophobic attacks.
A crowd marched through an informal settlement in Johannesburg chanting: "We want the Somalis to stay."
The march was intended to counter a protest by local businessmen demanding the closure of foreign-owned shops.
"I'll never allow foreigners to take bread from my mouth," a South African businessman told the BBC.
'Greedy and jealous'
He said that South Africans fought for democracy, and it would be a "criminal offence" to allow foreigners to dominate trade.
"I'm a businessman who wants to make a profit," he told the BBC's Focus on Africa programme.
But the anti-xenophobia campaigners, who were mostly women, rallied to the defence of the Somali and Pakistani shop owners in the Ramaphosa informal settlement, which witnessed some of the worst violence during anti-foreigner riots in 2008.
"They are the only shops from where we can buy things cheaply," one of the marchers said, adding that local businessmen were "greedy and jealous".
The BBC's Nomsa Maseko in Johannesburg says that as the rival groups demonstrated, the Somalis and Pakistanis locked their shops and stayed indoors while armed police patrolled the area.
"The police are giving us protection," a Somali businessman said.
"They told me to close my shop for my own protection," he said.
Last week, more than 50 Somali-owned shops in Port Elizabeth in the Eastern Cape province were attacked and looted.
At least 62 people died in attacks on foreigners that swept the country three years ago.