UN condemns Sudan's takeover of disputed Abyei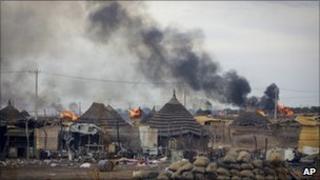 The UN Security Council has condemned Sudan's takeover of the disputed border region of Abyei and demanded it withdraw its troops.
The region is also claimed by South Sudan, which is due to become independent from north Sudan in July.
There are fears the Abyei dispute could reignite the two regions' civil war.
A Security Council statement said the north's occupation of Abyei was a "serious violation" of a peace accord with South Sudan.
Sudanese troops moved into Abyei on 21 May and seized the region's capital, Abyei town.
"The council demands that the government of Sudan withdraw immediately from the Abyei area," said the Security Council statement.
"The council calls on the Sudanese armed forces to ensure an immediate halt to all looting, burning and illegal resettlement."
The attacks have been blamed on northern nomads, the Misseriya, who traditionally graze their cattle in the region.
A southern group, the Dinka Ngok, also claims Abyei.
Last week, South Sudan's humanitarian affairs minister said he estimated 150,000 people had fled from Abyei state and border regions fearing further attacks. The UN's current overall figure is 60,000.
Under the 2005 peace deal, which ended the 22-year civil war, Abyei was granted special status and a joint administration was set up in 2008 to run the area until a referendum decided its fate.
That vote was due to take place in January, when the south decided to split from the north, but has now been postponed indefinitely.