Libya crisis: Tripoli hit by Nato air strikes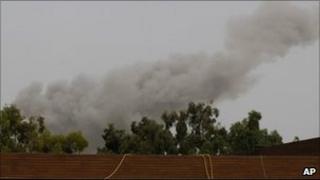 Huge explosions have rocked the Libyan capital, Tripoli, during a series of air strikes by low-flying Nato jets.
Some of the blasts appeared to strike close to the compound of Libyan leader Col Muammar Gaddafi.
Diplomatic pressure is mounting on Col Gaddafi but in an audio message on Tuesday he said he would not be beaten.
The head of the African Union Panel for Libya, Mauritanian President Mohamed Ould Abdel Aziz, said his departure had become necessary to end the conflict.
Russia and China, meanwhile, despatched for the first time top diplomats to the rebel stronghold of Benghazi in an attempt to mediate an end to the four-month-long conflict.
"We have come to Benghazi to facilitate dialogue between the two camps," Russia's Africa envoy, Mikhail Margelov, said.
At the same time, Libya's Foreign Minister Abdul-Ati al-Obeidi flew to Beijing for talks in what analysts describe as an attempt to regain diplomatic support on the international stage.
On the military front, Nato carried out rare daytime strikes on Tripoli, including a wave of attacks on military barracks near Col Gaddafi's residence, on what is believed to be his 69th birthday.
The BBC's Wyre Davies in Tripoli says buildings in the capital shook as Nato jets screamed overhead and dropped their bombs on what the Libyan government acknowledged were military installations belonging to Col Gaddafi's revolutionary guard.
Nato later confirmed it has now flown more than 10,000 sorties since operations began, including almost 4,000 strike attacks against government targets across Libya.
Libyan government spokesman Moussa Ibrahim condemned the raids.
"Instead of talking to us, they are bombing us. They are going mad. They are losing their heads," Mr Ibrahim said.
In an audio message broadcast on State TV on Tuesday, Col Gaddafi repeated his insistence that he would neither surrender nor be defeated.
"We welcome death. Martyrdom is a million times better," Reuters quoted him as saying.
'Negotiated solution'
Russia's President Dmitry Medvedev recently said the Libyan leader had lost legitimacy and should step down - echoing the views of most Western powers.
Most African leaders have, until now, remained quiet on Col Gaddafi's future.
But the Mauritanian leader, tasked with leading Africa's mediation efforts, has now said Col Gaddafi should go.
"Whatever happens, there will be a negotiated solution. In any case, Gaddafi can no longer lead Libya. His departure has become necessary," he told the AFP news agency.
Nato started air strikes in March, after the UN Security Council passed a resolution backing military force to protect civilians in Libya.
Col Gaddafi threatened to wipe out Libya's second city, Benghazi, after it was seized by his opponents.