Nigerian politician Bankole pleads not guilty to fraud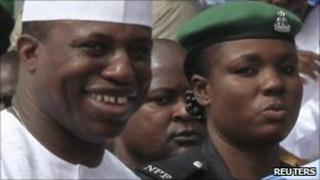 A powerful Nigerian politician has pleaded not guilty to 16 counts of fraud.
Former House of Representatives Speaker Dimeji Bankole filed the plea during a court appearance in Abuja.
Mr Bankole was arrested on charges of misappropriating millions of dollars of government funds.
His detention came after President Goodluck Jonathan, who was sworn in last week, promised to tackle endemic corruption.
Analysts say the case will be seen as a test of his commitment to fulfilling that pledge, as Mr Bankole is seen as a close ally of the president.
There was a heavy presence of security officers during Mr Bankole's court appearance in the capital. The judge remanded Mr Bankole in custody pending his bail application.
Nigeria's anti-corruption body, the Economic and Financial Crimes Commission (EFCC), said it arrested Mr Bankole after it had received information that he had planned to flee the country.
His spokesman has denied that he planned to leave Nigeria.
It is alleged that Mr Bankole secured a 10bn naira ($65m; £40m) loan, which was then shared out among senior figures in parliament.
The first charges relate to the purchase of 800 computers, 400 widescreen TVs, three Mercedes cars, two Range Rovers and a selection of office equipment.
Mr Bankole has acknowledged that the loan exists but says he did not gain personally. Prosecutors say they are planning to bring more charges next week.