South Africa: Burying an icon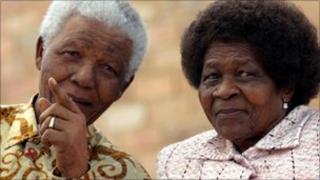 "It will be…
Soweto's busiest undertaker, Molefi Kupane, searches for the right word to describe Saturday's funeral of Albertina Sisulu - born in the same year as Nelson Mandela - a struggle heroine whose death has prompted South Africans to reflect, once again, on how they will cope when all their icons are buried.
Mr Kupane finally settles on "...substantial".
He arranged the funeral of Mrs Sisulu's husband, Walter, in 2003 and will be in attendance again as the famous - and famously loving - couple are reunited this weekend in the same dignified plot in a regular municipal cemetery.
The crowds will be huge. But then they always are in Soweto.
"It doesn't matter if it's a banker or a loafer - there's always a big turnout. It's a social thing," says Mr Kupane.
"If we work at the same office and my aunt passes away, you'll come to the funeral, not because you know my aunt, but to support me. It's important to be seen. And the funerals are getting bigger these days - more people have cars now. It's rarely less than 200 people. You go to a white funeral sometimes, and find just 10 people. You wouldn't expect that at a black funeral."
But there is more to it than that. Mr Mandela himself touched on it 18 years ago at the funeral of another legendary comrade, Oliver Tambo, still "tied to me by an umbilical cord which cannot be broken".
It's not just a South African thing, of course, but across the continent there is a visceral dimension to the burial process that never fails to strike me.
"You need to be sure the bones are in a place where they're happy," explains Mr Kupane.
"That's why you'll find people cleaning the graves every Saturday, and talking to their ancestors. If you're going to move them, you have to make sure the bones understand and agree with what you're doing. Otherwise you'll get bad luck afterwards."
Speaking of which, over the past few days, five of Nelson Mandela's own relatives have been exhumed and reburied.
His grandson, who oversaw the process, had been planning it for some time, but the move, from Qunu - where Mr Mandela grew up - to Mvezo - the smaller village where he was born - has inevitably set some tongues quietly wagging about a possible dispute over Mr Mandela's own final resting place.
"He has become his admirers," WH Auden wrote of the death of his fellow poet, WB Yeats.
With so many people, and organisations, already laying claim to Nelson Mandela's life and legacy, the possibility of friction between admirers is strong.
But Mr Kupane has some compelling advice: "I cannot talk about people who are still alive. It will shorten their days."