Gay Kenyans launch online forum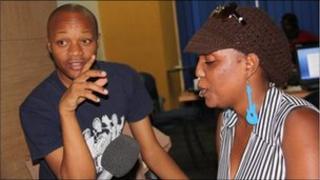 A website for gay Kenyans has been launched in the capital, Nairobi, to help the small openly homosexual community cope with discrimination.
The Freedom In Speech site would help gay people end their isolation by discussing their lives and the abuse they face, the founders told the BBC.
It would also create a forum to challenge homophobic politicians and religious leaders, they said.
Homosexual acts are illegal in deeply conservative Kenya.
David Wambua, a writer for the site, said it would contain "heart-wrenching stories" of the lives of gay Kenyans.
"I guess it will be personal stories of growing up - of conflicts with one's sexuality - of living in a family which is not accepting of who you are," he told the BBC's Network Africa programme.
He said the rights of gay people should be respected in Kenya.
"If the human rights of gays are affected, we speak out," Mr Wambua said.
Kate Kamunde said she intended to use the site to encourage other gay people to disclose their sexual orientation.
"We have very many people who are still struggling to come out, so I'll first do a 'coming out' story," she said.
Kenya's Prime Minister Raila Odinga stirred controversy last year when he said homosexuality would not be tolerated in the country.
Gay and lesbian people risk a jail-term of up to 10 years if they are convicted of homosexual acts.
Homosexuality is a criminal offence in many African states.
In Uganda, the government considered passing a law that would have imposed the death sentence on gay people, sparking an international outcry.
In Malawi, a gay couple were jailed last year.
President Bingu wa Mutharika pardoned them after strong protests from donor countries, including the US and UK.
He had previously denounced homosexuality as alien to African culture.
Most religious groups in Africa are also strongly opposed to homosexuality, equating it to Satanism.