Libya profile
3 December 2014

From the section

Africa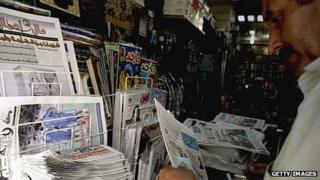 Libya's media environment has undergone a dramatic transformation in recent years.
The overthrow of Colonel Gaddafi in 2011 ended a 42-year dictatorship during which the media sector was under almost total state control and no independent or critical voices were tolerated.
The media environment since then has boomed, with the mushrooming of both independent and state-owned outlets.
There has been a proliferation of privately-owned satellite TV channels and internet usage has taken off from previously very low levels, with social media platforms such as Facebook registering high growth rates.
The revival has, however, been accompanied by a sense of chaos, fostered in part by the central government's inability to impose law and order.
The private media scene remains unregulated, but in September 2013 a new Information Ministry was set up, though the authorities have not so far enacted a new media law.
As the country saw out 2014, the chaotic media environment reflected the turmoil in Libya's political and security situation.
Two rival governments each had a television station with the same name and the same logo (Libya al-Wataniyah ie. National Libyan TV). There were two competing official news agencies with the same name.
More than 20 TV stations, and dozens of radio outlets, broadcast from Libyan cities and from Middle East media hubs. Many of them are privately-owned.
BBC World Service Arabic broadcasts on 91.5 FM in Tripoli, Benghazi and Misrata.
The press has similarly seen a radical shift. Former state-affiliated dailies have closed and new titles have appeared, some of them short-lived. Benghazi has emerged as a publishing hub. But there are few daily newspapers and print runs are small.
There were around one million internet users by December 2013 (Internetworldstats.com). Facebook, Twitter and YouTube were pivotal in carrying raw news material for a world audience during the revolt.
Facebook is a favourite platform for Libyans to read news and to comment on events. Libyans use Twitter as individuals and as activists. Many tweets on #Libya are in English.
Press
Television
Libya TV - aka Libya al-Ahrar; pro-NTC, Qatar-based satellite station, launched in April 2011
Libya Al-Wataniyah TV (Libyan National TV) - state-run
Libya al-Hurrah - pro-NTC
Al-Asimah TV - private
Radio
Libyan Radio and Television (LRT) - state-run, operates Radio Libya, Al-Shababiyah, Al-Itha'ah al-Wataniya (National Radio)
Voice of Free Libya - pro-NTC, in Benghazi, Al-Bayda, Misrata
Libya FM - pro-NTC, Egypt-based
News agencies/internet