Rwanda ex-army chief Nyamwasa in SA expulsion threat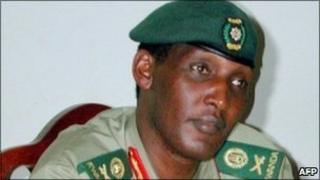 South African human rights groups have launched legal action to force the government to revoke the refugee status of a former Rwandan army chief.
They said Pretoria acted illegally by giving asylum to Lt Gen Faustin Kayumba Nyamwasa, who fought with President Paul Kagame to end the 1994 genocide.
But he fled to South Africa last year after falling out with Mr Kagame.
He is also wanted by Spain and France for his alleged role in killings in the lead-up to Rwanda's 100-day genocide.
After he fled to South Africa, he survived an assassination attempt in June 2010.
Rwanda's government denied claims that it was involved in the shooting.
South Africa recalled its ambassador to Kigali in the ensuing row.
Sentenced in absentia
Spain and France are both seeking to extradite Lt Gen Nyamwasa, who is accused of orchestrating the killing of former President Juvenal Habyarimana, an event that helped trigger the genocide.
The Southern Africa Litigation Centre and the Consortium for Refugees and Migrant Rights said it was unacceptable for South Africa to give refugee status to a person suspected of committing crimes against humanity.
"Refugee law is intended to protect the vulnerable, not those who are the cause of the vulnerability," said Alan Wallis, a lawyer at the Southern Africa Litigation Centre.
The Rwandan government has also been pushing South Africa to extradite Lt Gen Nyamwasa to serve a 24-year prison sentence after a military court in January tried him in absentia on charges of threatening state security, desertion and defamation.
Some 800,000 ethnic Tutsis and moderate Hutus were killed in the genocide.
Mr Kagame led the Rwandan Patriotic Front (RPF) rebel movement which put a stop to the killings - and has been president since 2000.
After the genocide, he promised peace and democracy but critics say he runs a repressive regime.