Are vigilantes the answer to Cape Town gang threat?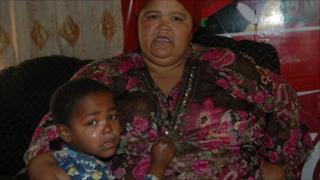 The tiny shack in South Africa's gang-ridden Cape Flats is filled with the sound of chilling screams as four children jostle for attention.
"They are always scared and very jumpy like they're in a nightmare that won't end," says Christine Booysen, looking defeated.
"Do you see what the violence here has done to my children?"
She lives a few metres from a popular crack house and has witnessed numerous gun battles.
"I'm scared that one of these days a bullet will come through this shack and kill one of us. That is no way to live," she says, looking around her home of corrugated iron and mouldy wooden planks.
The Cape Flats, just outside scenic Cape Town, is South Africa's gang capital, with around 150 gangs and an estimated 100,000 members, according to officials.
The area has known decades of violence and bloodshed at the hands of gangs battling for control of the drugs trade.
Local police say 15 people have been killed in crossfire during recent clashes between the notorious Junky Funky Kids and the Corner Boys gangs in Lavender Hill, in the Cape Flats.
Cape Town police chief Rob Young says gangsters and the drugs they peddle are responsible for about 80% of crime here.
Now, vigilante group People Against Gangsterism and Drugs (Pagad), declared a terrorist organisation in 2000 by the local government, says it is once more taking matters into its own hands.
'Enough is enough'
"When we controlled the streets 10 years ago we put an end to crime. It is time we take the streets back from these criminals - the police are obviously failing," Pagad spokesperson Osman Sahib recently told a crowd of Cape Flats residents.
"Our children and wives are getting raped by gangsters and we are here to say: 'Enough is enough'," he told the cheering crowd.
But the return of Pagad, albeit with new leaders, has caused some unease in the area.
The Muslim-dominated group hit the headlines in 1996 when Rashaad Staggie, co-leader of one of South Africa's most notorious criminal gangs - the Hard Livings - was shot and then burnt to death by Pagad members.
Pagad's armed security unit G-Force was then implicated in a 1998 blast at Cape Town's Planet Hollywood restaurant - popular among tourists.
More than 20 people were injured and one woman was killed but no-one has ever been convicted.
Although Pagad always denied the government's claim it was a terrorist group, many former leaders are still languishing in prison for the attack on Mr Staagie and similar incidents.
Now called "New Pagad", it is unclear whether the group is legal but officials are urging against a return of vigilante action.
"We understand that people are desperate but we cannot solve this problem by meeting violence with violence. We have seen enough violence in our lifetime," says Kevin Southgate, spokesperson of the Community Policing Forum, a body of police and community members.
'Held hostage'
But Cape Flats residents say the authorities must do more to combat and eradicate the scourge of gangsterism.
Some 55,000 people live in Lavender Hill alone and more than 80% of the population here have been victims of gang-related crime, according to Philisa Abafazi Bethu (Heal Our Women) an organisation for abused women and children based in the Cape Flats.
"We are a community of thousands held hostage by a handful of people. Our police are nowhere to the found," says the group's head, Lucinda Evans.
There are two schools of thought in this community - some believe that the police are in cahoots with the drug lords and others simply feel that the police are not equipped to rid the streets of the thugs.
The police have denied any involvement with gangs, saying those who are aware of any illegal dealings between the police and local gangs should report the matter to the authorities.
Police Col Andre Traut told the BBC that they are doing their best to manage the situation.
But some say the police have failed this community.
"The last time we saw police patrolling the area was during the 2010 World Cup but now we've been left to our own devices," says Ms Evans.
Ms Evans has been a victim of these violent streets. She was shot in her home by a gang member because of her involvement with the police in fighting gangsterism and drugs in the area.
"These gangsters do as they please and no-one is stopping them. Where is our government, we can't fight this alone," she says.
Ms Booysen, like many residents here, is desperate for an end to the meaningless deaths.
If officials say Pagad is not the answer, then what is?
Mr Southgate and some local residents have staged marches and carried out neighbourhood patrols but such action can only go so far.
"We need to rebuild people's trust in the police. People don't feel safe coming to the police with information about gangs and we need to change that. That will solve the problem, not Pagad," he says.
Many fear that the situation will worsen unless the government creates jobs for the many thousands of unemployed young people here who join gangs because there is nothing else for them to do.
"The shootings stop from time to time but we know that this is far from over. We need the government to save these young men from this life of crime, that is the only way our lives will be spared," Ms Booysen says.