Nigerian Boko Haram Islamists 'kill nurse' in Maiduguri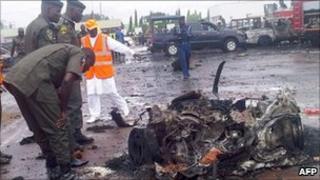 Gunmen from Nigeria's radical Islamist sect Boko Haram have killed a nurse who was playing cards in the north-eastern city of Maiduguri, according to police.
Police said four people were also wounded in the shooting at a bus stop in the city.
The gunmen killed another person in a separate attack in Maiduguri, police added.
Boko Haram, which is fighting for Islamic rule, bombed the police headquarters in Abuja last week.
A least eight people were killed in the bombing, local media reported.
The BBC's Bilkisu Babangida in Maiduguri says the nurse was killed in a drive-by shooting.
Police meeting
It seems the gunmen were targeting a policeman who usually played cards at the bus stop, but he was not there at the time, our reporter says.
Nigeria's police chief Hafiz Abubakar Ringim is to hold a crucial meeting on Tuesday with police commissioners from across Nigeria's 36 states to discuss the threat posed by Boko Haram, police spokesman Olusola Amore told the AFP news agency.
A spokesman for Boko Haram said Mr Ringim had been the target of the bombing at the police headquarters.
Boko Haram has carried out a wave of attacks in Nigeria since 2009.
It says it is fighting for Islamic rule, and campaigns against all political and social activity associated with the West.
Boko Haram's leader Mohammed Yusuf and several hundred of his supporters were killed by security forces in Maiduguri after the group attacked police stations.
After a lull, their attacks have intensified in recent weeks.