Nigerian bank and police station attacked in Katsina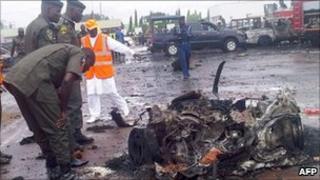 Men armed with guns and explosives have attacked a bank and police station northern Nigeria, killing seven people.
It is not known who carried out the the simultaneous attacks in the town of Kankara in Katsina state.
The attacks come as police chiefs from across Nigeria's 36 states are meeting in Abuja to discuss the threat posed by radical Islamist sect Boko Haram.
The group has carried out a wave of attacks targeting police, mainly in the north-eastern state of Borno.
Last Thursday, Boko Haram said it was behind the bombing of the national police headquarters in the capital, Abuja.
Correspondents say if Boko Haram is confirmed to be behind Monday's attack, it would be a further sign that the organisation's network is spreading to other parts of the country.
"The attackers were 10 in all, divided themselves in two groups and attacked the bank and the police station at the same time with guns and bombs," Kankara resident Salmanu Jabir told the AFP news agency.
A spokesman for Boko Haram said police chief Hafiz Abubakar Ringim had been the target of Thursday's bombing at the police headquarters, in which eight people died.
The group says it is fighting for Islamic rule, and campaigns against all political and social activity associated with the West.
Boko Haram's leader Mohammed Yusuf and several hundred of his supporters were killed by security forces in Maiduguri in 2009 after the group attacked police stations.
After a lull, their attacks have intensified in the last nine months.
The sect's trademark has been the use of gunmen on motorbikes, killing police, politicians and anyone who criticises it, including clerics from other Muslim traditions and a Christian preacher.