South Africans inspired by Obama trip down memory lane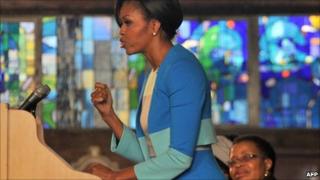 "Michelle Obama represents the best of us," a young lady told me at Regina Mundi church in the South African township of Soweto after the US first lady finished her speech.
South Africans are in their nature very warm people.
It is not surprising that on this winter's morning they embraced an African-American woman who came to inspire them with her eloquent address.
When Graca Machel, wife of Nelson Mandela, made her introductory remarks ahead of Mrs Obama's enthralling speech, she was beaming.
She was inspired by the wife of the US's first black president, while she in turn was the wife of South Africa's first black president.
Race is in South Africa's DNA. It is the genetic code of this vast land.
Therefore it becomes a poignant moment when the best of black people come together in a church hall, naturally most black people will feel elevated by her message.
'People's parliament'
The young South African women who packed the pews of Regina Mundi were quite rightly encouraged by Mrs Obama's humble past, which most of them share with her.
When she described how Regina Mundi used to be called the "people's parliament" during the anti-apartheid protests of the 1980s, my own memories began to flood back.
I remembered when I was one of thousands of young students who packed these very wooden benches listening to anti-apartheid activist Archbishop Desmond Tutu and the Azanian People's Organisation's Seth Cooper.
Mrs Obama stood exactly at the same spot where many liberation struggle icons stood when they called for an end to white minority rule.
Then there was a day when the apartheid state police had completely surrounded the church, and through a tiny loud hailer, they ordered us to disperse within two minutes.
"Two minutes?" we asked.
The answer came back: "You have one minute."
That was the very first time I saw a vehicle-mounted revolving tear-gas spray canister.
It choked our lungs and made our eyes itch, like it was our last day on Earth.
Today there was huge security outside the church - police vehicles of all types, shapes and sizes. They were there not to attack us but to protect us.
Mrs Obama's message was as exhilarating as those struggle speeches of the 1980s.
She said she was in South Africa because "the fact is that in Africa, people under 25 make up 60% of the population.
"And here in South Africa, nearly two-thirds of citizens are under the age of 30. So over the next 20 years, the next 50 years, our future will be shaped by your leadership."
South Africa has the highest number of people with HIV in the world, with an estimated 5.3 million people living with HIV/Aids.
'Strike a rock!'
Experts say the epidemic in South Africa appears to have stabilised, however, with rates of new infection starting to come down - particularly among young people.
That is why the crowd applauded even more when she said: "You can be the generation that ends HIV/Aids in our time - the generation that fights not just the disease, but the stigma of the disease, the generation that teaches the world that HIV is fully preventable, and treatable, and should never be a source of shame."
She continued: "You can be the generation that holds your leaders accountable for open, honest government at every level, government that stamps out corruption and protects the rights of every citizen to speak freely, to worship openly, to love whomever they choose.
"You can be the generation to ensure that women are no longer second-class citizens, that girls take their rightful places in our schools.
"You can be the generation that stands up and says that violence against women in any form, in any place - including the home - especially the home - that isn't just a women's rights violation. It's a human rights violation. And it has no place in any society."
And as one of the people who was there on that bitterly cold Wednesday morning of the Soweto uprising on 16 June 1976, it was incredibly moving to know that Mrs Obama laid a wreath at the Hector Peterson memorial in Soweto.
The wife of the most powerful black man on Earth, paid tribute to the youngest black victim of an uprising that changed the course of South Africa's history.
To a thunderous applause back in Regina Mundi the first lady quoted old struggle giants such as Albertina Sisulu, who recently passed away: "If you strike a woman, you strike a rock!"