Zimbabwe army: PM Morgan Tsvangirai is security threat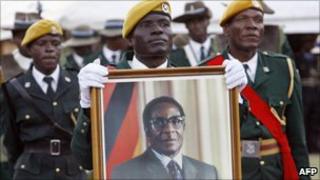 A top army officer in Zimbabwe has accused Prime Minister Morgan Tsvangirai of being a security threat.
"He takes instructions from foreigners who seek to effect illegal regime change," Brig-Gen Douglas Nyikayaramba told the state-run Herald paper.
His comments come after Mr Tsvangirai urged military chiefs to remove their uniforms if they wanted to challenge him politically in forthcoming polls.
Mr Tsvangirai joined a unity government with President Robert Mugabe in 2009.
The coalition, which took power after disputed elections in 2008, has helped stabilise the economy and reduced political violence.
But the administration has been fraught with squabbles over introducing reforms.
Mr Mugabe and his Zanu-PF party have been pushing for polls this year, but human rights activists have been worried about reports of increased political harassment of his opponents.
The prime minister's party - the Movement for Democratic Change - wants security forces to stay out of politics and to not publicly support Mr Mugabe in the next election.
Many of Zimbabwe's security chiefs fought with President Mugabe during the 1970s guerrilla war against white minority rule and remain fiercely loyal to him.
The army was said to have been involved in systematic attacks on Mr Tsvangirai's supporters after he won the first round of the 2008 election.
According to the AFP news agency, Brig-Gen Nyikayaramba has recently been removed from the constitution-making body after saying Mr Mugabe should remain in power for life.
'Nonsense'
He repeated his view to the Herald: "President Mugabe will only leave office if he sees it fit or dies. No-one should be talking about his departure at the moment. We will die for him to make sure he remains in power.
Brig-Gen Nyikayaramba dismissed Mr Tsvangirai's comments at a rally over the weekend as "nonsense".
"Tsvangirai doesn't pose a political threat in any way in Zimbabwe, but is a major security threat," he said.
"We are dealing with a national security threat, which can only be dealt with by people in uniform.
"If it was a normal political environment, one would hope to retire at some point and join politics."
The MDC argues without a new constitution and electoral reforms, forthcoming polls would not be free and fair.
Mr Mugabe and his allies say Zimbabwe's economic problems are the result of a plot to oust him because of his policy of seizing white-owned land.
His critics accuse him of turning what used to be be on Africa's most developed economies into a basket case.