South African jailed for foot-and-mouth threat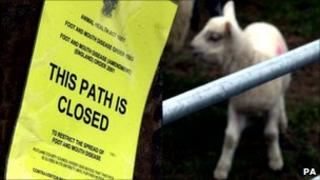 A South African man has been jailed for five years after threatening to unleash a biological agent in Britain and the United States unless he was paid $4m (£2.5m).
In messages to UK authorities, Brian Roach, 64, threatened to unleash foot-and-mouth disease.
Under a plea deal struck with prosecutors he escaped charges of terrorism.
He was arrested near Johannesburg while trying to collect some of the cash.
Roach was given a 12-year sentence in Johannesburg for attempted extortion, but will serve only five years.
The magistrate, Renier Boshoff, told the businessman he was lucky to be given such a short sentence.
"Your age definitely played a role," the magistrate said.
'Tyrant from hell'
Roach, a retired engineer, threatened to release a toxic biological agent which would cause an outbreak of foot-and-mouth disease.
The court heard that in a letter he claimed he had the expertise and resources to carry out his threat and it would "devastate the UK's farming industry".
The messages, which were presented in court, blamed Britain and America for failing to protect white property owners in Zimbabwe who lost their farms under a land reform programme promoted by President Robert Mugabe, whom the messages called "the tyrant from hell".
But prosecutors said Roach had no business links to Zimbabwe and had never farmed there.
South African police worked with UK and US counter-terrorism teams to monitor his activities.
An outbreak of foot-and-mouth in the UK in 2001 led to the slaughter of millions of farm animals and cost British agriculture billions of pounds.