Liberia vice-president in 'search' row with US airline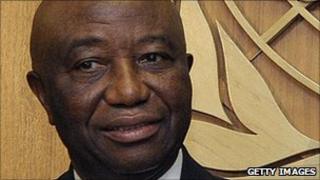 Liberia's Vice-President Joseph Boakai has demanded an apology after being searched by a US airline, his spokesman has said.
Sam Stevekuoah said US Delta Air Lines searched Mr Boakai before he boarded a recent flight from Liberia to the US.
He said Mr Boakai had been on an official trip and found the search unacceptable.
"Delta will not be allowed to run the government of Liberia or dictate to it," Mr Stevekuoah added.
The BBC's Jonathan Paye-Layleh in the Liberian capital, Monrovia, says Mr Boakai's treatment by Delta Airlines has sparked heated debate among callers to local radio stations.
'Stepchild'
Some callers defended the airline while others felt that it showed US arrogance, our reporter says.
Prominent economist Sam Jackson said the vice-president's treatment suggested that the US still saw Liberia, founded as a colony of freed American slaves, as its "stepchild".
Mr Stevekuoah said Mr Boakai met Delta Air Lines officials to discuss his treatment and they gave him a verbal apology.
However, he was not satisfied and was pressing for a written apology, Mr Stevekuoah said.
Our reporter says Delta Air Lines has issued a statement saying the search was carried out in accordance with US safety and transport policies.
It said Mr Boakai had not been exempted because his office had not properly arranged the trip with the airline.
Mr Boakai flew to New York to attend a UN meeting.
He agreed to the search at the time because the trip was "more important than what had happened to him", Mr Stevekuoah said.