Zimbabwe police arrest Morgan Tsvangirai ally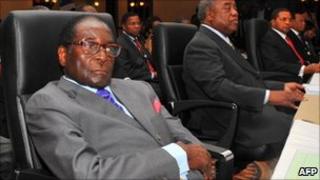 Zimbabwean police have arrested government minister, Jameson Timba, an ally of PM Morgan Tsvangirai, his MDC party says.
It said he was held on a charge of undermining President Robert Mugabe's authority.
The MDC says the arrest followed a newspaper report that quoted Mr Timba as saying Mr Mugabe had lied about a regional summit on Zimbabwe.
Under Zimbabwean law it is a criminal offence to insult the president.
Mr Tsvangirai's Movement for Democratic Change and Mr Mugabe's Zanu-PF party have had a fractious relationship since forming a unity government after disputed elections in 2008.
The government has helped stabilise the country in the past two years, but human rights activists say they are worried about reports of increased political harassment of Mr Mugabe's opponents in recent months.
In March, Elton Mangoma, the MDC energy minister in the coalition administration, was arrested on charges of corruption.
'Strange arrest'
The BBC's Brian Hungwe in the capital, Harare, says Mr Timba was arrested on Friday afternoon soon after his arrival from Spain, where he had been accompanying the prime minister on a business trip.
"The MDC finds it strange that the minister can be arrested on the basis of a newspaper report," the MDC said in a statement.
Mr Timba was quoted by South Africa's Sunday Times newspaper, under the headline "Mugabe a liar", as questioning Zanu-PF's account of recent summits of the Southern African Development Community (Sadc), the regional body that negotiated Zimbabwe's power-sharing agreement.
He reportedly contradicted Mr Mugabe's claim that regional leaders withdrew a damning report on the slow pace of reforms and renewed political violence in Zimbabwe.
Mr Mugabe and his Zanu-PF party have been pushing for polls this year, but the MDC argues that without a new constitution and electoral reforms, forthcoming polls would not be free and fair.
Mr Tsvangirai won the first round of the presidential election in 2008 but he withdrew from the run-off against Mr Mugabe after systematic attacks on his supporters.