Zimbabwe Minister Mangoma cleared of corruption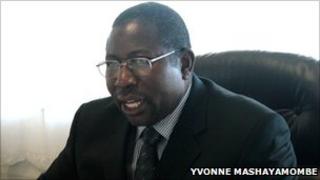 Zimbabwe's Energy Minister Elton Mangoma has been acquitted of corruption charges.
He was tried over a multi-million dollar fuel deal negotiated with a South African company.
The High Court in Harare ruled that Mr Mangoma did not benefit from the deal and did not flout tender procedures.
Mr Mangoma is a founder of the Movement for Democratic Change, which has been in an uneasy coalition with President Robert Mugabe's Zanu-PF since 2009.
'Ignorant and vindictive'
The BBC's Brian Hungwe in the capital, Harare, says the judge threw out the case, ruling that Mr Mangoma had no case to answer.
The energy minister said the verdict showed that the MDC was being "persecuted", but he would press ahead with his job in the power-sharing government.
"These is no need to be bitter when dealing with ignorant and vindictive people," Mr Mangoma said.
Leading members of Zanu-PF party had called for Mr Mangoma to be charged following claims of irregular fuel purchases from neighbouring South Africa.
Zanu-PF members said tender procedures had been violated and only a small amount of the fuel had been delivered despite the payment of several million dollars.
Mr Mangoma ordered the fuel at the height of a fuel crisis in Zimbabwe in January.
He was arrested in March and escorted from his offices by three plain-clothes officers.
Another MDC minister, Jameson Timba, was arrested last week for allegedly calling Mr Mugabe a liar.
But a court later ordered his release, saying his arrest was illegal.
The coalition government, which came to power after disputed elections in 2008, has helped stabilise the economy.
But the administration has been fraught with squabbles over introducing reforms.
Mr Mugabe has been pushing for polls this year, but human rights activists have been worried about reports of increased political harassment of his opponents.
Prime Minister Morgan Tsvangirai, the MDC leader, argues without a new constitution and electoral reforms, forthcoming polls will not be free and fair.