Nigeria profile - Leaders
31 March 2015

From the section

Africa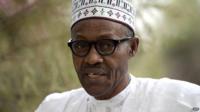 President-elect: Muhammadu Buhari
Muhammadu Buhari swept to a historic election victory in March 2015, becoming the first opposition candidate to win a Nigerian presidential poll.
A former military ruler, Mr Buhari defeated incumbent Goodluck Jonathan by three million votes.
Mr Jonathan's People's Democratic Party had dominated Nigerian politics since the end of military rule in 1999, but its supremacy was shaken by the formation of the Mr Buhari's All Progressives Congress party in 2013.
The APC in particular capitalised on Mr Jonathan's failure to deal with endemic corruption and the militant Islamist insurgency gripping northern Nigeria.
A Muslim and ethnic Fulani from northern Nigeria, Muhammadu Buhari in 1983 helped to oust elected President Shehu Shagari to and become the first head of independent Nigeria's second period of military rule, lasting until 1999.
His regime sought to combat crime and corruption but was also accused of serious rights abuses. In 1985, he was himself overthrown by Gen Ibrahim Babangida.
Since the restoration of democracy in 1999, Mr Buhari three times unsuccessfully stood for the presidency before winning in 2015.
He has distanced himself from military rule, promising to respect democracy and govern as a civilian leader.
Born as his father's twenty-third child in 1942 in northern Katsina state, Mr Buhari began his long military career in 1961.
President: Goodluck Jonathan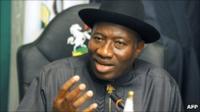 Goodluck Jonathan inherited the presidency in May 2010 on the death of his predecessor, and went on to win elections in April 2011.
International observers gave the 2011 elections their general approval. Other elections since the end of military rule in 1999 have been widely condemned for state-sponsored manipulation.
However, the announcement of the results was followed by violence in the northern stronghold of his main opponent, General Muhammadu Buhari.
The election results revealed a geographical divide, with Mr Jonathan scoring well in the predominantly Christian south, and Gen Buhari sweeping many of the Muslim-dominated northern states.
Mr Jonathan was elected as vice-president to Umaru Yar'Adua in 2007, and had to serve as acting president as Mr Yar'Adua's health declined.
Mr Jonathan has expressed his commitment to fighting corruption. In November 2011, he sacked the head of the country's anti-corruption agency, accusing her of not doing enough to tackle the problem.
The president has since himself been blamed for failing to curb rampant corruption in government and state institutions.
The increasing militancy of the northern-based radical Islamist group Boko Haram has also become a major danger. After a series of bloody attacks on Christmas Day 2011, Mr Jonathan vowed that the government would do all in its power to bring the perpetrators to justice.
Despite this, the government has faced mounting criticism over its failure to stop Boko Haram from capturing several towns in the north-east in a series of massacres, displacing thousands of people, and abducting hundreds of schoolgirls.
After postponing the February 2015 presidential election because of the insurgency, President Jonathan launched a major offensive against Boko Haram that month in conjunction with Chad, Cameroon and Niger.
When the vote was held in March 2015, Mr Jonathan lost to opposition candidate Muhammdu Buhari.
Mr Jonathan was born in 1957 in Bayelsa, a state in the oil-rich Niger Delta. Unlike his predecessor, who was a Muslim from the northern Katsina state, he is a Christian from the south.
After studying zoology at university, he worked as an education inspector, lecturer and environmental protection officer before going into politics in 1998.
Elected deputy governor of his native Bayelsa state in 1999, he was promoted when the governor was impeached on corruption charges in 2005.
Two years later, he was hand-picked to be Mr Yar'Adua's running mate in the 2007 election, which the ticket won amid allegations of widespread vote-rigging.