Ivory Coast warrant for Gbagbo ally Ble Goude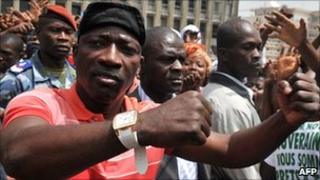 Ivory Coast has issued an international arrest warrant for ex-President Laurent Gbagbo's youth militia leader, who has been on the run since April.
The prosecutor said Charles Ble Goude was accused of inciting ethnic violence and xenophobia, Reuters reports.
Known for his vitriolic speeches, he mobilised thousands of men to join the army in the final days of the stand-off after November's disputed polls.
Mr Gbagbo was removed by force after refusing to accept electoral defeat.
An estimated 3,000 people were killed before Mr Gbagbo's arrest in April.
The UN oversaw the election and said it was won by his rival Alassane Ouattara, who has since been inaugurated as Ivory Coast's president.
House arrest
Mr Ble Goude, who was put under UN sanctions in 2006 accused of inciting attacks against UN personnel, has been on the run since Mr Gbagbo's capture.
He has reportedly been spotted in Benin and Ghana.
"Arrest warrants have been issued against suspects on the run," AFP news agency quotes public prosecutor Simplice Kouadio Koffi as saying.
Mr Gbagbo named Mr Ble Goude his youth minister after the November election when he refused to leave office.
During the four-month impasse that followed, many members of Mr Ble Goude's Young Patriots group were given weapons.
"For many weeks, people incited hatred and xenophobia and committed all kinds of atrocities," the prosecutor said, Reuters news agency reports.
Warrants have also been issued for Mr Gbagbo's former spokesman Ahoua Don Mello, former minister Philippe Attey and the ex-envoy to Israel Raymond Koudou Kessie, the prosecutor said.
On Sunday, 15 associates of Mr Gbagbo were charged with forming armed groups, economic crimes and undermining the state.
Mr Ouattara's government has promised an end to impunity, but so far only pro-Gbagbo supporters have been arrested despite the findings of a UN Human Rights Council report that both sides committed atrocities during the conflict.
Mr Gbagbo has yet to be charged and remains under house arrest in the north of the country.
The elections in Ivory Coast were meant to draw a line under a 2002-03 civil war which left the country split in two.