South Sudan war widow: 'I will have a country at last'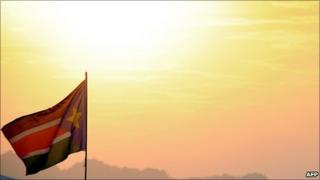 Sarah Nyakuoth William is a retired nurse and the widow of one of the founding fathers of the rebel movement which fought for South Sudan's independence.
An estimated 1.5 million people died in conflict between the Arabic-speaking Muslim north and the south, which is made up of numerous ethnic groups who are mostly Christians and animists.
Mrs William tells the BBC about the years of struggle and her feelings as the long cherished dream of separation from Khartoum becomes a reality.
Testimony:
Independence is a day we have been waiting for many years - for as long as I can remember.
Even if I am poor I am rich, because I will have a country. I can just sleep under a tree, and I will be happy.
When I threw my vote into the ballot box for the referendum for independence in January, I said: "This is my time."
I raised the flag with my vote - we all did, all the 99% who chose independence.
People were laughing, singing, dancing all night long.
That was when we knew that our freedom is coming.
I am around 65 years old, but I am estimating because my parents were villagers from Upper Nile and did not have records.
It has been a long journey to this point.
Fell in love
My husband fought with the rebels in the bush in the first war in the south - "the Any Nya" that war was called.
That was in the 1960s when we were fighting for separation from the north of Sudan.
I had fallen in love with a man in the bush. His name was William Nyoun Bany and we had got married.
We had to stay together. We ended up running together to Ethiopia for safety as refugees, and I trained as nurse, helping the people there.
Then there was a peace agreement in 1972 [when the south was granted more autonomy from the north].
We had hoped that the peace would bring a better time, so we came back for the south.
I went to work in Malakal, in Upper Nile, as a nurse. I was trained by the national army.
My husband too, from being a bush fighter, was now integrated into the army, based in Ayod in Jonglei State.
But in 1983 the rebellion started again [after the north announced the imposition of Sharia law across the whole country].
I remember the commanders, who came to form the Sudan People's Liberation Army (SPLA) - my husband included - meeting at this time. I would bring them lots of tea as they talked.
But when the actual fighting started I was in Malakal, and my husband was far away.
We didn't know exactly what was going on, and it was frightening, because I had the little children with me.
I was told: "Your husband is a well-known man, if you are caught you will be killed."
I was told: "You have to move, you have to escape out of Malakal."
Husband killed
So that night I slept for safety in the church, then I escaped the next day on foot - I walked with my younger children all the way to Ethiopia.
That is a long way.
We could not travel as fast as the men or the older children who were also heading to Ethiopia, so it took time to cross all the way.
Along the way we got to where my husband had been - he had moved on, but we got news there of where to go next.
After several weeks we got to Ethiopia - and once again I worked there as a nurse, looking after the refugees, the children and the wounded men who came back from the fighting.
When President Mengistu [Haile Mariam, Ethiopia's leader] was deposed in 1991 we had to flee again, and we moved to Kenya to another refugee camp.
From there my six children have scattered across the world, even to Cuba and Canada.
I lived in Kenya but worked for aid agencies as a nurse - going in and out of southern Sudan.
Now I live in Juba, the capital of South Sudan, and I am retired.
My husband died during infighting in the SPLA - when people were confused and there were factions.
I don't blame the factions, they were all brave fighters.
He died for this day coming, independence day, and reaching that will be the day that I can forget all the bad memories, because the journey will have been reached.
I knew we'd get here in the end, but I didn't know if I would ever see the day.
Finally the day is here.
I'm happy, happy for the future for my children, and all of South Sudan.